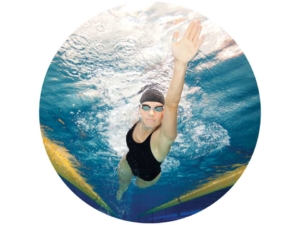 ABOUT US
Located inside ClubSport San Jose the Silver Creek Swim School has been providing indoor, quality swim instruction for both children and adults, since June 2007.
We offer a warm, clean, temperature controlled, indoor environment – which offers the ideal conditions for learning how to swim. Being an indoor facility also allows our students to enjoy lessons and swimming year-round.
Our team is comprised of talented, passionate Swim Instructors and Coaches who focus not only you and your child learning how to swim but enjoying their time in the pool. We teach students ranging from 6-months to 96+ years of age!
Our 22-yard long, Instructional Pool is meticulously maintained – it is specifically designed for swim lessons and kept at a warm 90 degrees.
The 25-yard, saline, Lap Pool is kept at 81 degrees and very well maintained.
For both pools, we use state-of-the-art technology to keep chemical balance and temperature at an ideal.
We feature a full-service, Family Locker Room complete with towel service, private changing rooms and storage lockers.
Leadership – Kathleen Clarke has been at the swim school since April 2008, first as an Instructor and since 2014 as the Manager. Her passion for all things swim is evident as she can be found in the pool almost 7-day a week. Under her management, we offer children and adult Group, Private, Vacay Ready, Boy Scout Merit Badge, even Navy Combat swim lessons.